If you are going to get into the world of collecting rare books then you definitely will need to learn how to tell the various conditions apart. This includes not only the widely recognized conditions for used books but also many "non-official" grades that are still widely used to help further delineate the condition of books that are a particularly good (or particularly bad).
Because to be honest there can be very noticeable differences between two books that are both considered very good, and there are sometimes even bigger differences between two books that are both rated as good.
While officially ratings like "Near Fine," "Very Good Minus," or "Good Plus" might not exist, they are very useful tools used by sellers to give a better picture of the condition of a collectible book to potential customers. This also helps experienced and trusted book hounds get a better price for their find.
Officially six conditions exist in antique book collecting: As New, Fine, Very Good, Good, Fair, and Poor. In common practice these are used with Near Fine, Near Fine Plus (NF+), Near Fine Minus (NF-), Very Good Plus (VG+), and Very Good Minus (VG-), as well.
Since in practicality there's a full range of ratings that get used by buyers, sellers, collectors, and book hounds alike, we're going to cover all of them.
What book condition grades are, what they entail, and how to tell one from another.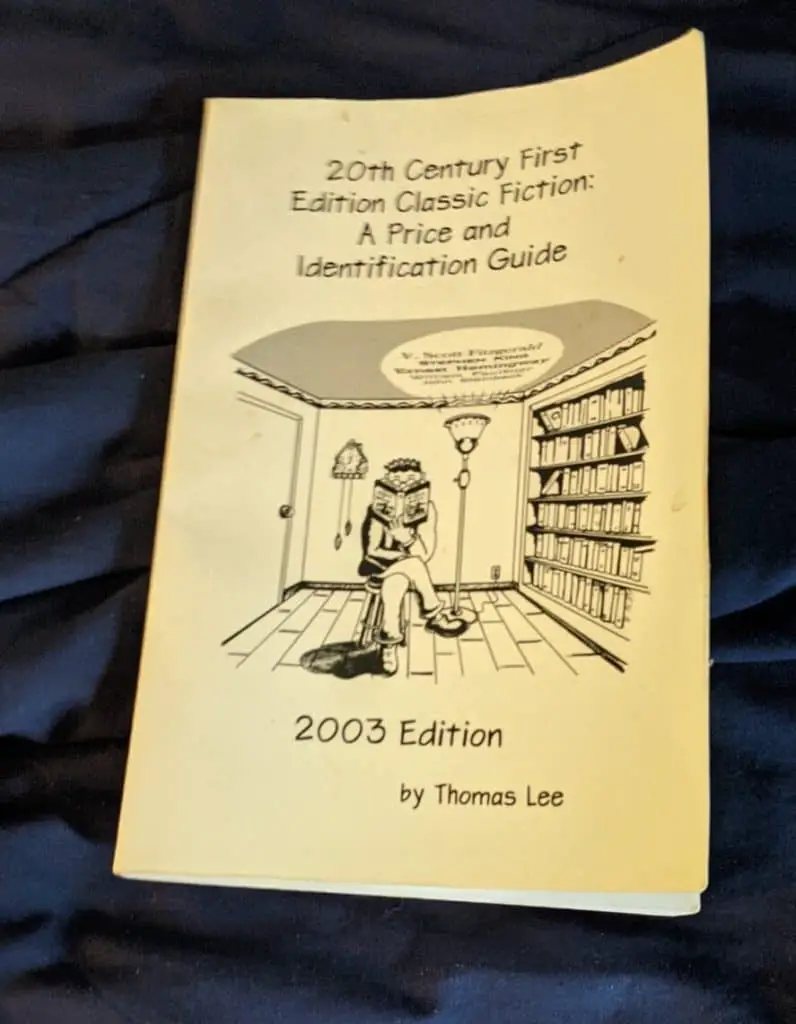 Conditions for Rare, Collectible, & Antique Books
Most books will fall in the fair to very good categories, but it's important to understand even the rarer conditions because on the off chance that you find an outlier (as I once did with The Innocents by Sinclair Lewis) that can radically alter the price (in that case from a $250 estimate to $775 sale).
Read on to learn about every condition of book, the giveaways and tell-tale signs between different grades, and with a little experience soon you'll be able to look over collectible books like a pro.
Dust Jacket Conditions Matter
For most modern collectible books the first printing must come with the dust jacket unless otherwise noted. The original dust jacket is damaged and lost far more than a solid book, making it rare and holding most of the value for collectors.
Sometimes when grading you'll see two different grades separated by a slash like this: NF/VG+ or VG/G.
With grades like that the first grade is the book itself an the second one applies to the dust jacket.
For old enough books, the dust jacket isn't expected to survive and so may be a complete non-issue. However for newer collectible books the condition of the dust jacket matters a lot in determining value.
As New
This is a condition that should basically rarely or never come up. This condition is ONLY used when the book is in the exact same condition as when it was published. The book and dust jacket must be in absolutely perfect condition.
No chips, no bends, no discoloration, no sign of wear, nothing. This is virtually unheard of for all but the most modern first editions and even then, it's just not common.
Fine
Fine is when a book almost looks good as new, but it doesn't have the same crispness that is clear from a book just off the presses. This is a book where there must be no defects on the book, no sun fading, and if the tiniest bit of wear appears on the edge of the dust jacket that must be noted.
Anything big enough to be considered a small tear or more than one bit of "wear" on the edge of the dust jacket means most collectors and dealers will knock the grade down to Near Fine Plus or NF+.
Fine is as close to as new as you can get without truly being brand new. If there is any doubt whatsoever, the book grade is not Fine.
The "Near Fines"
Near fine is the gray area that a small number of books hit between the Fine and Very Good grades where there's a huge difference between a "low end" very good book and one that is just one tiniest of defects too much from being fine.
The best way to understand what constitutes "near fine" is to thoroughly study "Fine" and "Very Good" and see that range in the middle. This is where the Near Fine grade exists.
Some people use NF+ and NF-, while others don't. This can be a gray area but for sure these books would pass very good with flying colors and even push on the high side of that.
For sure a Near Fine Book:
Has no tears on the binding
Has no tears on any pages
No clear staining or defect
No fading from the sun
The dust jacket can have some wear on the corners, but no major tears
The binding must be solidly glued and not loose, slanted, or otherwise different from publication quality
No musty smell
A near fine book must easily check all the boxes for a very good book and generally doesn't have the acceptable level of wear or use that a very good book can have.
As for learning when to use this, or especially when a grade of NF+ or NF- might be appropriate will take time and experience to master. This is also a gray area so it might vary slightly between dealers.
Very Good
Very good books are still incredibly common among collectors and sellers because for many collectible books this might be the highest grade that can be reasonably expected. Especially for first editions that are 70 or 100 years old.
A very good book can show some small signs of use and wear. There should still be no tears on either the binding or the paper. Some bends in the corners of the pages or a little bit of fading might be expected and does not disqualify a book from a very good grade.
There are very good variations with VG+ and VG- that are used to indicate books that maybe have the smallest of issues that bump them down from Near Fine or are just treading water above being knocked down to Good.
All defects of any kind need to be recorded and revealed, as with any book in less than Fine condition.
Good
A good grade is given to collectible books that are basically what you expect from a very old book. These books have been read and they are worn. It's clear they are older and have been used.
That being said, these are still books in good condition. There are no disqualifying defects like major coffee stains, water damage, or mold. There should be no missing pages. There might be minor tears on the bottom of some pages and while the dust jacket will likely have small tears along the edge, there shouldn't be a massive one that is half way across the jacket.
All defects in both the book itself as well as the dust jacket should be recorded.
A good book may have a small list of minor defects but still looks very good overall. When it comes to the value of antique or collectible books it's true that there is a LOT of attention paid to the details or nuances of each book.
The binding can be slightly loose, but it should not be coming clear off the back and there shouldn't be obvious problems like entire sections of pages pulling away from the spine.
Fair
Fair books are worn books that have all the pages in tack but there are obvious issues. This often includes no endpapers, any missing pages, issues with the binding, jacket is heavily worn with noticeable tears (whether repaired with tape or not). This is a book that has been beat up.
If the book is rare enough it might still be worth something, but it's clearly a fraction of anything that would be rated Good or above.
Every single defect must be listed so a buyer has the full picture of what they are spending money on and what the full condition of the book is.
Poor
This is a book that has been beat up to the point where it's not considered collectible, but still works as a "reading copy." A book in poor condition has all the text so you can read the book, but it's also clear this does not have value as a collectible.
Ex-Library & Book Club
These are not valuable, period. No matter how good a shape the book is in they must be marked "Ex-Library Copy" or "Book Club Copy" or both. These are pretty much never valuable except for really extreme circumstances with the library copies.
I can't recall any example of a book club copy being considered valuable. Assume these are great reading copies for your own home library and that is almost certainly it.
Book Condition Quick Table
| | | | |
| --- | --- | --- | --- |
| Condition | Brief Description | Official? | Some First Hand Thoughts |
| As New | Perfectly off the press. | Y | I'm not sure I've ever seen a collectible book in this good a condition. |
| Fine | Nearly perfect. | Y | Some of these exist, but you are VERY hard pressed to find one. |
| Near Fine | Used by book buyers, collectors, and sellers to hit gray area between Fine and Very Good | N | Very rare, but sometimes you will find an amazing book that hits the NF grade, usually NF/VG if with dust jacket. |
| Very Good | Officially recognized, though VG+ and VG- are not, still incredibly great shape book. | Y/N | The best books you find as a book hound or collector will usually be VG or VG+ |
| Good | By all accounts a very well taken care of book from a reader's POV, but clearly used. | Y | Many beginners mistake these for Very Good, but a collectible book in Good condition can still be VERY valuable. |
| Fair | A book that has seen wear and tear, it's seen better days, but it's not completely irredeemable, but it doesn't yell collectible. | Y | Always a coin toss whether I buy these – usually I only do if I don't mind them growing my personal library. |
| Poor | Reading copy only. | Y | I'll just buy the new paperback version. |
| Ex-Library | Only buy for your personal library, most personal collectors will avoid these unless it's the rarest of books (at which point how did it stay in a library that long?) | Y | I once found multiple VG+ books with equally good book covers that would have been a small fortune – if not for the big inky library stamp. Boo! |
| Book Club | Not valuable, period. | Y | Only for the reading. |
Why Condition Matters So Much
Condition helps to determine price. The better the condition, the more valuable the book. The value from one condition to another isn't a stable percent, either. There are general estimates and rules of thumb, but based on how rare or uncommon a collectible is, a single degree of difference in condition can mean many hundreds or thousands of dollars in price value.
That's a huge difference.
While there have always been general guidelines for the conditions of collectible books (after all it doesn't take a rocket scientist to know better condition is a good thing) but the modern list as it is widely recognized as now was codified in 1975.
At that time the Antiquarian Bookman was a published and this became the guidelines that everyone adopted to create s standard reference for the benefit of everyone.
Damage That Automatically Downgrades a Book Grade
Part of understanding how each of these grades works is also understanding how certain common forms of damage are viewed. Some things can be a bit gray area (how bad is a 1/8 inch tear on an 80 year old dust jacket, anyway?) while others have a clear downgrade.
The listed condition is the ceiling of where the book's condition is at that point. For example, musty smell is a downgrade to very good. However if there are other issues that would make the book very good anyway, then the grade is VG- or Good.
Here's the list of common damage types that automatically downgrade a book's grade:
Bookplate – Fine to Near Fine, Near Fine to Near Fine-, less impact further down the line
Inscriptions – treated the same as a bookplate
Cracked spine – Fine to NF, non-issue at lower grades for single instance
Dust jacket tears – 1/8 inch or less below NF expected and usually non-issue. Multiple or bigger reduces multiple grades based on severity.
Creases – a single crease is no big deal (think bookplate) but multiple puts the ceiling at Very Good
Ripped page – Very Good, though in very old books a very small ripped page might be slightly less damaging
Musty smell – downgrade to Very Good
Tape or remnants of tape repair – downgrade at least one full degree
Spotting on sides of pages – downgrade 1-2 degrees depending on severity
Water staining – downgrade to Good at best (and many won't touch water damaged books, period)
Removed page – downgrade to Fair
Those are the most common ones. You know you've gone past the point of casual collector when you can glance at a dust jacket and just know with 99.5% certainty whether that's a partial degree downgrade or not.
In Conclusion
There's no denying that this is one of the bedrock skills for anyone who wants to succeed at scouting out, buying, and selling collectible books for a profit. Start by learning the officially recognized grades as well as the types of damage that just automatically downgrade a book to a certain level.
If you bookhound long enough you'll find the book that is near fine…except for that one thing that knocks it down to good. Or so many very goods that just miss the NF grade.
If you follow the advice here, buy some guidebooks to help learn more about being a bookhound (no matter how long you've been in the game you always have more to learn and refresh), you will be on your way.
Other Important Skills to Pick Up