Among the many tools at the disposal of young book hounds are apps designed for book buyers and sellers. Some of the smartphone apps are based around organizing libraries, others at checking prices, and others still put plenty of listed titles up on auction at your fingertips.
While many predicted that the wired world of the Internet would bring an end to books and book-related niches, that certainly hasn't happened. In many ways the technology has been used to accentuate many of the things about old books, book collecting, and reading that I absolutely love.
Smart use of the right apps has opened up the world for flippers and retail arbitrage fans, but what about more collectible books? The truth is that even some flippers who wouldn't know the term book hound would find valuable old books that turned them a good profit. Once or twice I even bought a book from a flipper who found it for $5 or less, wanted $75 from me for it, and then I turned around and sold it for $350+.
So what book apps make this possible? Which smartphone apps can do serious work and which ones don't quite fit in with what your specific goals are?
Read on to find the most popular book apps and figure out how they may (or may not) fit into your antique book collecting strategies.
Let's dive in!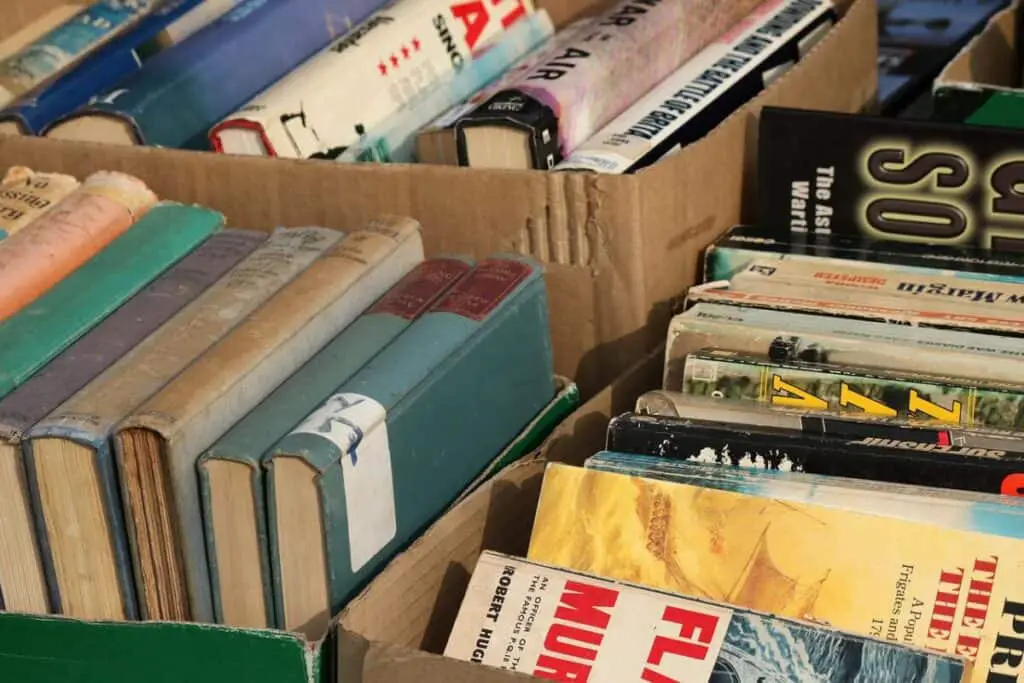 Libib
Libib is an app that comes up immediately when looking at book collectors. This app isn't so much for quick identification, but as far as tools to organize what you have, it's outstanding. You can scan barcodes, upload a CSV sheet, and organize many different collections in a way that makes sense and works specifically for you and your needs.
Libib sees itself as a library and organization app and the uses that fall under this umbrella or area of focus are clearly the strongest parts of the app. If you need massive organization, the Libib book app for smartphones can do some serious work and has a degree of customization with your organization that few other apps will have any choice of competing with.
In fact, aside from sorting you can also manually enter additional information or edit what's there.
This includes informational inputs for:
A custom description
Year of publication & publisher
ISBN number
Number of pages
You can even include an actual image of the specific book in question, which helps to tell apart when you have multiple first editions of the same title. You can customize the information as you see fit to make everything more searchable and have the inventory information you want on hand.
Recent updates are working on adding more information, and honestly the Libib app could become the app of choice for bookhounds and antique book sellers with a few important additions. If searchable categories were added for:
Book condition
Where purchased & date of purchase
Original price
Any appraisal notes or information
Goal selling price or listed selling price
This is important for antique book sellers no matter what part of the chain they are on with buying and selling antique books. In many ways the Libib app for book sellers feels a lot like an app that is good for general book sellers but not made at all for those specializing in antique books and it's a shame – because a few minor adjustments and addendums and this is an app that could be huge for both!
There is a free version and a paid version for sellers who need even more data for their records and notes.
Delicious Library 3
While it takes some time to get used to, there are plenty of collectors, buyers, and sellers who will find Delicious Library 3 very helpful. The most recent iteration of this app, DL3 sets itself up as a catalogue system like many smartphone apps for book sellers, but there are several features here not found on Libib or other popular book seller apps that does make it stand out.
The first is the sheer number of entries. The Delicious Library 3 app allows you to catalogue up to 10,000 items including the current market value of items based on what the open markets are doing.
This is exceptional, though some experts have noted that DL3 isn't completely clear on where they get their market data from which means that at the end of the day there's an argument this is more an educated guess than an extremely accurate valuation. This is a legitimate concern as some values have been right on while others felt undervalued to those sellers who would wait to get the right price on a hard to acquire first printing.
Likely these are based on online marketplaces which are great because it shows what the actual selling prices are versus the "in theory" valuations, however for very rare or hard to get titles, this actually can make the prices less accurate.
Another big thing this app needs is a sorting feature. This is one of the strong points of Libib and the fact it is distinctly missing here is a shame because this one feature would take the app to the next level.
eBay
Look, while the eBay app is the tool of retail arbitrage and general flipping, it's also a place where you might catch the occasional rare listing. You may also find collectible or niche books that are getting bids and selling for decent amounts but would not hit you as being your conventional antique or collectible book.
This isn't book-only focus, but it's an app that can give a lot of extra data and I've done many a book sale both buying and selling on eBay. You might find deals worth moving on, or you might find a book in person that is selling surprisingly well once you jump online.
EBay has done a fantastic job making sure its app works well, works fast, and is both effective and easy to use, making it a top choice for book hounds, retail arbitrage specialists, and flippers alike.
I have mainly bought from eBay as opposed to selling, because I'm willing to sit a decent amount of time to get the right price and that means that finding good deals on sales is easier than selling at market price (exception: Christmas time) but the eBay app helps me find good deals while on the road, see how the demand for certain authors jumps or wanes, and allows me to list collectible books that are valuable because of novelty or topic versus an actual inherent antique value.
Definitely a must-have if you do book selling above and beyond traditional very rare antiques.
BookScouter
BookScouter is a very interesting app and one I had high hopes for as soon as I heard the name. While this will be an extremely useful app for some book sellers, it's not going to do much for antiquers.
BookScouter is excellent for college kids looking for the best prices on their used textbooks, people liquidating large collections of books before a move, or other similar situations. This isn't an app that is actually for Book Hounds, which is a shame because the name is great.
However, if you find antique books through buying in bulk at estate sales and small town auctions, this can be a good app to pair with eBay to get rid of all the books that don't fall into the valuable vintage or antique labels.
Ziffit
Ziffitt is an app that is designed to both identify and price a book quickly based on bar codes. This is good for more modern books, but it does cause issues when talking about antiques or collectible books, many of which came prior to bar codes. This makes Ziffit an app that is extremely popular with retail arbitrage specialists and flippers, and less so with collectors.
However, it is fast and handy allowing for quick scanning of bar codes and gives information that allows for smart purchases if you do both arbitrage and flipping in addition to looking for antique bookhounding on the side.
ThriftBooks
ThriftBooks is one of my favorite book-related apps. This isn't designed to be a collector's app or a seller's app, but it's a book buying app. This has a place in any bookhound's repertoire as it can be used to look for books, to flag titles you want to know about when listed, and to search for deals.
This is an example of where having a lot of knowledge about lesser known modern antique titles that might fly under the radar comes in handy because you can use the search features to find pictures, listings, and determine what kinds of great deals are right there for the taking.
So if you're a reader in addition to a bookhound or seller then you will find plenty of use from ThriftBooks. It's an app that can serve a lot of purposes, one of which is filling out your home library.
Depop
Not what I would call a conventional book app, and Depop is a bit better known among people looking at flipping or dealing with fashion and beauty products, however they also have a wide range of books listed for sale from hundreds of different sellers, which opens up the possibilities.
Even beyond another place to list, you can look for a good deal that is being listed by someone else on an app that has an enormous number of books listed for sale, but doesn't seem like the type of app that most savvy book buyers and sellers would use, meaning there is potential face here to find some good deals from sellers who don't know the value of what they have.
Not worth much from the organizational point for book buyers, but if you want another place to look for deals on used books this app can give you access to some occasional treasures.
Is There Room for A True Book Hound App?
This is an interesting question to me. From the user side of things, absolutely. There is plenty of a room for an app that can access information on true first printings or valuable editions of books and focus on the collectible side of things based on small antique book store pricing versus the general auction site scrapers that can be found now.
Now how do you manage a massive database database with a library's worth of information that is actually effective based on being able to get data via a picture of a copyright page or some other information that clearly helps you figure out the truly valuable first printings versus those first editions that weren't as valuable.
The problem is, the market is almost certainly too niche for a large scale app development. At least for the amount of work that doing this one right would take compared to likely audience size, even if you added regular flippers, arbiters, and antiquers in addition to book collectors and book hounds.
Although for a tech-savvy owner of a rare book store, maybe a family store with several members who all have the skills to give an appraisal creating a premium app that works as a pay-to-play access for quick appraisals or something similar could be a really interesting potential business opportunity.
This is an interesting niche area, and I for one would be extremely interested in seeing how such a focused app could do. Who knows? With how big side hustle and flipping culture has become, especially with the proliferation of these channels on YouTube, there might very well be room for a more valuable book app as the interest in these is going to increase beyond your conventional book hounds.
Best Book Apps: In Summary
There are many great smartphone apps for book lovers, buyers, and sellers, though when looking for an app that meets all the needs of an in the field book hound, it's going to be a bit harder to find the perfect match.
However, depending on what type of books you're focused on or if you're looking at any good deal then using a combination of these apps can do wonders…and some of them have great programming that allow you to customize the apps to your needs. That can make them much more useful depending on how far you can go with it.
Depending on whether you focus only on antique books, a special type of collectible, or you're interested in any used book that can be re-sold to someone who wants it to make a profit, there are smartphone book apps that can help you organize your library, find good deals, and chase down important details to help you decide whether or not to make the purchase.
Other Antique Book Articles You May Love